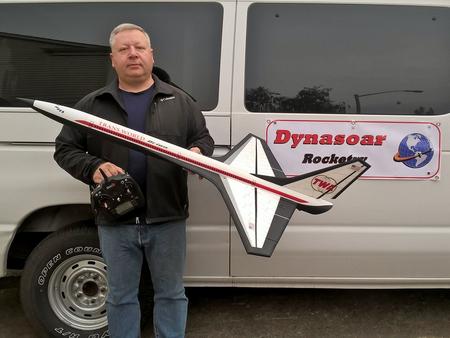 Dynasoar Rocketry specializes in limited runs of unique Radio Controlled Rocket Gliders for the excellent long burn Aerotech E-6 RC 24mm rocket motors. These kits are cut personally by me using Depron or Model Plane foam, white Estes and BMS tubing, and include high quality carbon fiber rods, plastic nose cones, 3m blenderm and velcro tape, dubro/great planes hardware and railbuttons.com buttons. Many steps are pre-done, spars slotted/and/or installed, elevons hinged, pushrods bent, tubing cut and marked, rocket mount completed, pieces taped for easy alignment after removal from the box. All components are white so no painting is required. Current kits come with an adapter wire for connecting a jst lipo battery to a standard receiver.  Complete build instructions and photos are available online to help with assembly and setup. Use the Instruction pulldowns above to find all current and OOP kit instructions. Wing loading is very light and glide speed and decent rate are slow enough for easy spot landings. You boost vertically on any standard pad with 1010 rail, nothing is ejected from the model and they are ready to fly again immediately. Their design gives them a low wing loading, slow glide, and easy construction while still maintaining the look of a real aircraft. They boost to over 500′ and have glide times of over a minute in still air. Once trimmed, they are a lot of fun to fly in the wind. Even though these kits are not hard to fly, they are only recommended for people with aileron controlled fixed winged aircraft RC flight experience. Priority mail shipping to US addresses is included in the kit price and each kit ships in it's own box. Please allow 2-3 days for me to create your kit. We are one of the only dealers who stock a large inventory of the 24mm Aerotech E-6RC rocket motor reloads. Current paypal settings will only allow US address buyers to order directly. If you are in Canada the only shipping option that is cost effective is parcel with no insurance.  Use the contact form to let me know you are interested and I'll give you an estimate and send an invoice.   Scroll down and use the add to cart buttons to place an order for kits or motors.​
I'll be attending NARCON  from 2/22-2/27 so any orders will be filled and shipped on 2/30
---
---
NEW!!!  Battlecruiser RC Rocket Glider Kit
---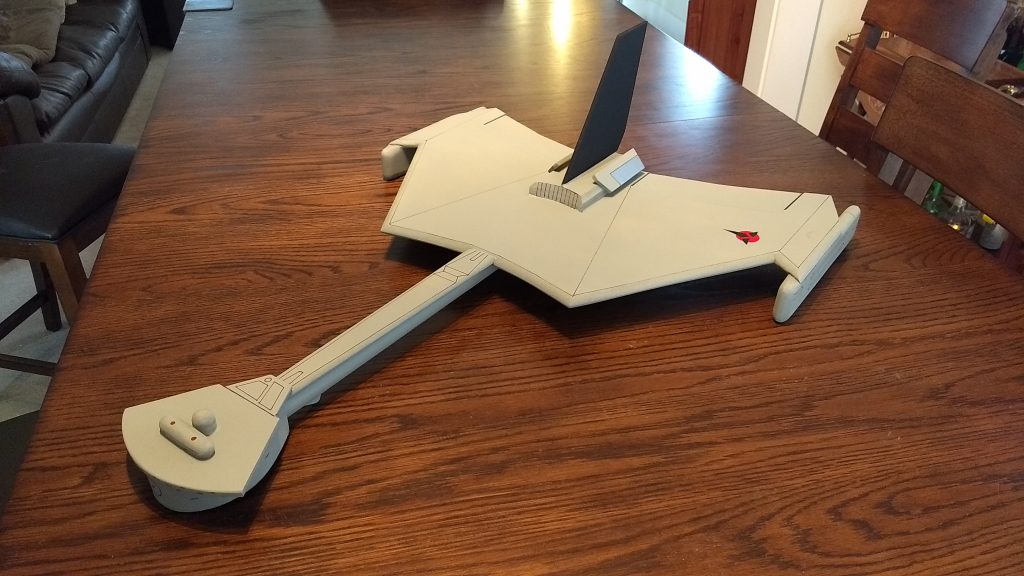 The Battlecruiser RC Rocket glider kit. This is a very limited run kit, only a few left in this run.  The kit comes with pre-assembled fuselage tube, Model Plane Foam (MPF) wing and tail surfaces and stickershock cut vinyl markings. It is an excellent flyer as shown in the video below.   Foam pieces are laser cut and the spar and control surfaces are pre-installed and hinged. 29″ length, 23.5″ wingspan, 11 oz rtf.  This kit can also be flown with a pusher electric setup, information shown in the instruction page.  The Battlecruiser Kit $65.50 shipped.
---
 Daedalus RC Rocket Glider Kit
---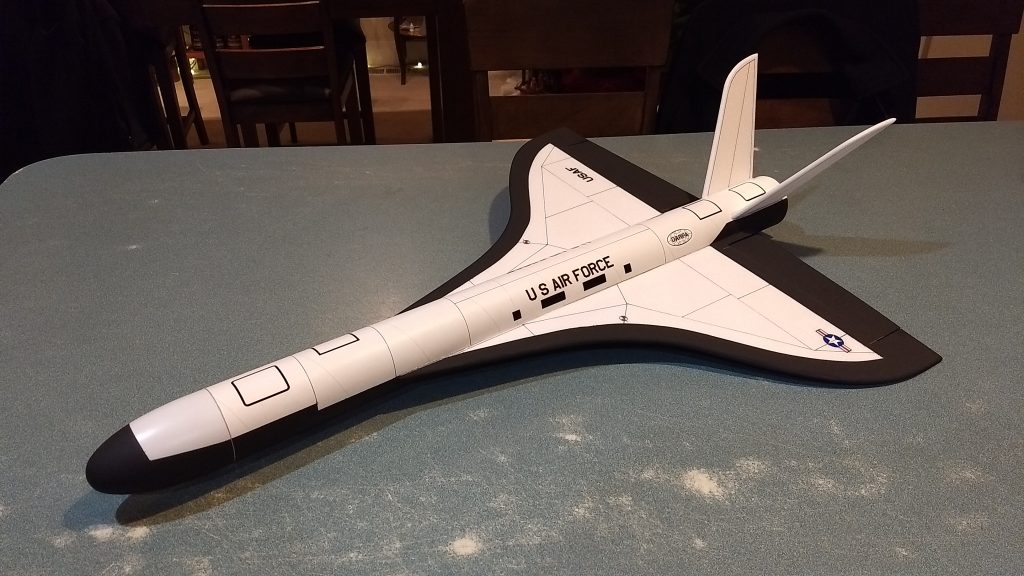 The Daedalus RC Rocket glider kit is based on the secretive X-37 Orbital Test Vehicle used by the US Air force on long duration secret missions and returns to earth to be re-flown. It comes with a plastic nose cone, 2.6″ white tubing for the body, Depron Tail surfaces, and Model Plane Foam (MPF) wing.  Simple construction makes assembly and radio install easy.  Model shown finished with Stickershock23.com markings, not included,  2.6″ diameter,  33″ length, 23.5″ wingspan, 10.5 oz rtf.  Deadalus Kit $64.99 shipped
---
Orbital Shuttle RC Rocket Glider Kit
---
The Orbital Shuttle RC RG Kit.  This is an upscale of the classic Orbital Transport Shuttle glider, with center mounted wing, elevon controls and 24mm motor mount.  The kit features an MPF foam clipped delta wing, depron tail and a plastic nose cone.  Simple construction makes assembly and radio install easy.  Model shown finished with Stickershock23.com markings, not included,  2.6″ diameter,  32″ length, 20″ wingspan, 10.25-10.5 oz rtf.  Orbital Shuttle Kit $63.99 shipped
---
Stratotdart 2 RC Rocket Glider Kit
---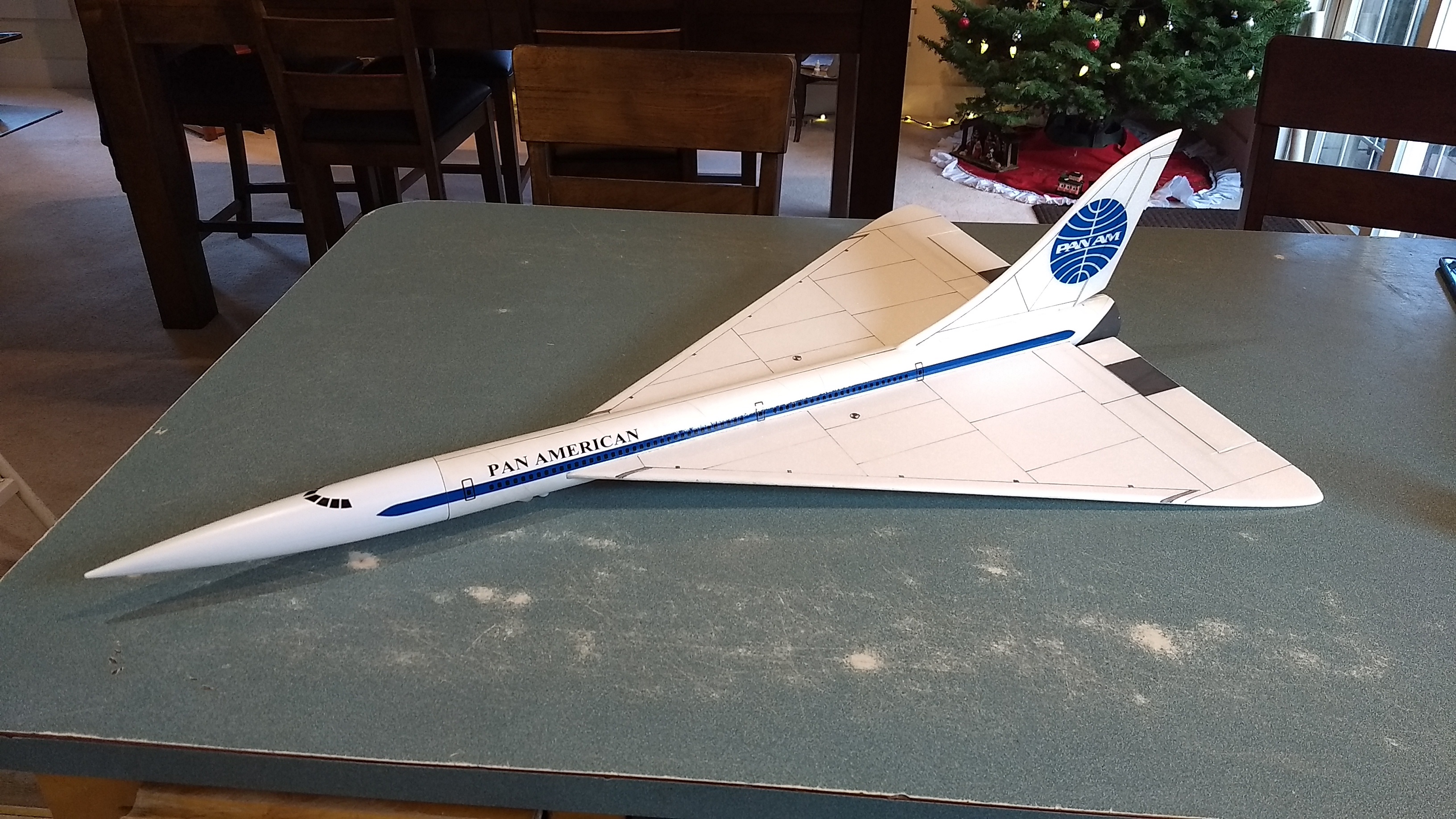 The  Stratodart 2 Rocket glider kit.  This is a redesigned version of the original Stratodart kit resulting in identical flight performance to the original but allowed me to reduce the price.  The kit features a mid mounted MPF foam delta wing, depron tail and a plastic nose cone.  Simple construction makes assembly and radio install easy.  Model shown was finished with Stickershock23.com  markings, not included. 38″ length, 23″ wingspan, 11.5 oz rtf.  Stratodart 2 Kit $61.99 shipped